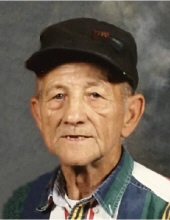 Samuel Hobert "Shorty" Richmond, 81, of Emerson, passed away Thursday morning, December 7, 2017, at his home.
He was born December 12, 1935, in Lewis County, a son of the late Delbert and Josie Carpenter Richmond.
Shorty attended the Old Path Pentecostal Holiness Church and had worked for the Lewis County Road Department until his retirement. He enjoyed farming, loafing at Walker's, gardening, and spending time with his family and friends, especially with his grandchildren.
Shorty is survived by his wife of 49 years, Mary Smith Richmond; three sons and daughters-in-law, Samuel Hobert Richmond Jr. and Shonda of Emerson, Tommy Allen Richmond and Theresa of Vanceburg, and Donnie Ray Nolen and Charolette of Garrison; three daughters and one son-in-law, Janice Nolen of Emerson, Patricia Baldwin of Wheelersburg, Ohio, and Linda Sue Buckler and David of Morehead; 44 grandchildren; several great-grandchildren; several great-great-grandchildren; and one sister, Sally Butler of Emerson. He also leaves many other family members and friends who will sadly miss him.
In addition to his parents, he was preceded in death by one grandson, Hunter Isaiah Richmond; six brothers, Herbert Richmond, Fred Richmond, Carl Lee Richmond, Dewey Richmond, Bobby Richmond and Walter Richmond; and two sisters, Maggie Butler and Dorothy Spence.
Services will be at 1:00 p.m. Saturday, December 9, 2017, at Globe Funeral Chapel in Olive Hill with his son, Sam Richmond, and Bro. Daniel Miller officiating. Burial will follow in Morgan Cemetery at Head of Grassy.
Friends may visit from 11:00 a.m. until 1:00 p.m. Saturday, December 9, 2017, at Globe Funeral Chapel, 17277 West Highway US 60 at Olive Hill.
Pallbearers will be Kody Richmond, Josh Richmond, Tyler Richmond, Eric Johnson, Leroy Richmond, and Jay Johnson.