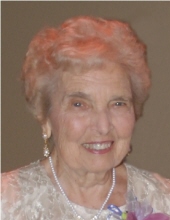 Marie Voiers Bias, age 95, of Fort Myers, Florida, formerly of Vanceburg, passed away Wednesday, October 17, 2018, at Health Park Hospital in Fort Myers.
She was born May 16, 1923, in Lewis County, a daughter of the late Santiago and Mary Mustard Voiers.
Marie graduated from Morehead State University and owned her own medical lab for many years before retiring to Fort Myers. She was a member of many organizations including Ladies Oriental Shrine as High Priestess; Daughters of American Revolution, Caloosahatchee Chapter Historian; Eastern Star; Garden Club; and others.
In addition to her parents, she was preceded in death by her husband, Robert Scott Bias, and one daughter, Myla Yvonne Bias.
Marie is survived by one son, Robert V. Bias of Florence. She also leaves many other family members and friends who will sadly miss her.
Graveside services will be held at 2:00 p.m. Friday, October 26, 2018, at the Woodlawn Cemetery in Vanceburg.
In lieu of flowers, the family request that donations be made in Marie's memory to the Shriners Hospital for Children, 3229 Burnet Ave., Cincinnati, Ohio 45229-3095.
Condolences may be sent to the family at http://www.globefc.com