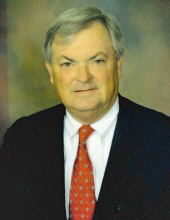 Richard "Dick" Henry Esham, Sr., M.D., passed away peacefully at home on Wednesday, January 12, 2022.
He was born in Vanceburg, KY, and was a long-time resident of Mobile, Alabama. He was a loving husband, father, grandfather, son, brother, and friend.
He was preceded in death by his father, Dr. Elwood Esham, and his mother, Ruth Opfer Esham, of Vanceburg.
He is survived by his wife, Tamela Edwards Esham; and children, Ashley (Stacy) Guy of Fairhope, Alabama, Dr. Richard "Henry" (Leslie) Esham II of Billings, Montana, and Clay Esham of Fairhope, Alabama. Affectionately known as "Doc" by his grandchildren, he is survived by grandchildren, Jake and Drew Prati of Fairhope, Alabama, and Richard Henry Esham III "Tripp" and Mila Esham of Billings, Montana. He is also survived by his brothers, Dr. William T. (Marika) Esham, Dr. George E. (Debbie) Esham of Portsmouth, Ohio; and sister, Faith L. Esham of New York City, New York.
Dr. Esham was a respected and devoted physician who loved his patients and the practice of medicine. He received his Doctor of Medicine degree from The University of Louisville prior to serving two years as a Medical Officer in the U.S. Army where he was awarded the Army Commendation Medal. Dr. Esham completed his Internal Medicine Internship and Residency at The University of Alabama at Birmingham, and he practiced Internal Medicine and Geriatrics in private practice in Mobile, Alabama, for many years.
He then served as Professor and Program Director of the Primary Care General Internal Medicine and Geriatrics Residency training program in the College of Medicine at The University of South Alabama. Dr. Esham spent the last few years prior to his retirement as the Medical Director of CPSI. As a staunch believer in organized medicine, Dr. Esham spent his entire medical career working tirelessly on behalf of physicians. He served on many local, state, and national medical boards, and committees, and received numerous awards. Always proud of his service in the Army, Dr. Esham served as an Honor Guard Member for the last several years with the American Legion, Post 250.
Services were held at 12:00 Noon Monday, January 17, 2022, at Dauphin Way Baptist Church in Mobile. Interment was in Forest Lawn Memorial Gardens. Donations may be made to Veterans Recovery Resources (www.veteransrecoveryresources.org) or the charity of your choice.