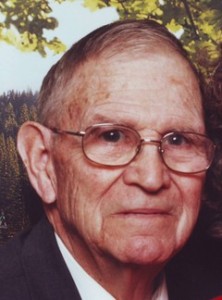 Albert E. "Buck" Carver, 94, passed away at his home Monday, January 18, 2016, following an extended illness. His family was at his side.
Mr. Carver was born in Carter County on April 7, 1921, to the late Albert and Mary Bell Zornes Carver. He was a farmer and construction worker.
Survivors include his wife of seven years, Dollie Ethel Jones Carver of Vanceburg, whom he married in Brooksville; one daughter, Diane (Randy) Kennedy of Belpre, Ohio; one son, Gary (Betty) Carver of Vanceburg; four grandchildren; nine great-grandchildren; and five great-great-grandchildren.
He was preceded in death his first wife, Avanelle Johnson Carver in 1990; three brothers, Archie Carver, Ruben Carver and James Ellis Carver; and five sisters, Ethel Craven, Frances Von Luhrte, Audrey Lewis, Ida Lewis and Weaver Owen.
At Mr. Carver's request there was no visitation or services.
Interment was at Zornes-Carver Cemetery on Trace Creek Road.
Gaydos Funeral Home in Vanceburg was in charge of arrangements.
Condolences may be sent at www.gaydosfh.com.