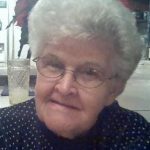 Myrl Conley Cordle, 86, passed away Wednesday, December 9, 2020.
She was born on November 26, 1934, to the late Virgil and Bessie (Sloas) Conley. She was married to Jerry Cordle who passed away May 21, 2012. Myrl was a member of Germantown Baptist Church and was a missionary in Brazil.
She is survived by her step-children, Penelope Christian of DeMott, Indiana, David Cordle of Columbus, Ohio, and Jerry Michael (Carol) Cordle of Bedford, Virginia; five grandchildren; and 15 great-grandchildren. She is also survived by a sister, Orella Preston of Ripley, Ohio; and two brothers, Roger (Carolyn) Conley of Vanceburg and John Conley of Frankfort.
She was preceded in death by a step-grandchild; two brothers, Carl Conley and David Conley; and a sister, Judy Lynn Gulley.
Private services will be held for the family at Maple Grove Cemetery.
Palmer Funeral Home is serving the family.
Memorials may be made to Germantown Baptist Church.  Condolences may be sent to PalmerFh.com.