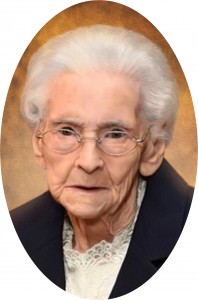 Inez J. Conley, 95, of Flemingsburg, passed away Saturday, December 30, 2017, at the Care Center at Kenton Pointe in Maysville.
Inez was born December 18, 1922, in Lewis County to the late Floyd Sr. and Nellie Michael Moore.
She was a loving mother and grandmother who enjoyed spending time with her family. While raising her family, Inez worked as a house cleaner for local families, and at Pioneer Trace Nursing Home as a nurse's aide.
Survivors include her children, William J. "Bill" Conley and wife Dorothy, Glenn Martin Conley and wife Kay, Danny Allen Conley and Mary, all of Flemingsburg, Jerry "Mick" Conley of Poplar Plains, Karen Dunaway and husband Joel of Wallingford, and Freida Ann Hedrick of Maysville; several grandchildren, great-grandchildren and great-great-grandchildren; a daughter-in-law, Ann Conley of Indianapolis; and three siblings, Bob Moore and wife Margie, and Floyd Moore Jr., all of Lewis County, and Pat Bivens and husband Max of Greenup County.
Inez was preceded in death by her sons, Floyd Thomas Conley and Jack Conley; grandchildren, Jeff Conley, David Conley, Bradley Conley and Aaron "Doodle" Clark; her parents; and siblings, Howard Moore, Glenn Moore, Bill Moore, Rita K Jordan and Mabel K. Trout.
Services will be at 1:00 p.m. Wednesday, January 3, 2017, at Boone – Nickell Funeral Home in Flemingsburg. Burial will follow in Wedonia Cemetery.
Visitation will be from 6:00 p.m. until 8:00 p.m. Tuesday, at the funeral home.
Her grandchildren will serve as pallbearers and honorary pallbearers.