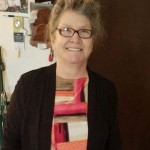 Dolly May Moore, 73, of Portsmouth, passed away Friday, Dec. 14, 2018 at her home.
She was born June 11, 1945, in New Boston, Ohio, a daughter of the late Orr Moore and Florence Caldwell Moore.
She was a member of Church of Christ at South Shore, KY.
Dolly is survived by two sons, Jeff (Joann) Rhoden of Morehead, KY, Layton (Lisa) Rhoden of Lucasville, Ohio; two daughters, June (Terry) Craft of  South Shore, KY and Tonia (Matthew) Arnold of Sciotoville, Ohio; two brothers, Robert Moore of Garrison, KY, Orr Moore Jr. of West Portsmouth, Ohio; three sisters, Pauline McCleese of Lloyd, KY, Patty Moore of Wheelersburg, Ohio, Betty Burchett of Portsmouth, Ohio and June Toppins of West Portsmouth, Ohio; five grandchildren and three great-grandchildren.
In addition to her parents, she was preceded in death by two brothers, Orr Moore, David Moore; four sisters, Ethel Denune, May Roster, Marthella Moore and Molly Moore.
Services will be held at 1 p.m. Tuesday, Dec. 18, 2018, at the Roberson Funeral Home in South Shore, with Brother Gary Vaughn officiating. Burial will follow in Waring Cemetery at Garrison.
Friends may visit from 11 a.m.  until the hour of services Tuesday at Roberson Funeral Home, 400 Main Street in South Shore.
Condolences may be sent at http://robersonfuneral.com.