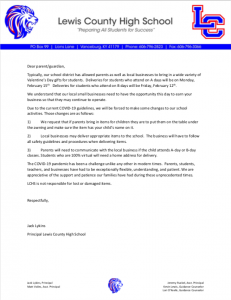 Lewis County High School Principal Jack Lykins has released a letter to parents/guardians outlining plans for Valentine activities in the midst of the COVID-19 pandemic.
This is the text of the letter:
Dear parent/guardian,
Typically, our school district has allowed parents as well as local businesses to bring in a wide variety of Valentine's Day gifts for students.  Deliveries for students who attend on A days will be on Monday, February 15th   Deliveries for students who attend on B days will be Friday, February 12th.
We understand that our local small businesses need to have the opportunity this day to earn your business so that they may continue to operate.
Due to the current COVID-19 guidelines, we will be forced to make some changes to our school activities. Those changes are as follows:
1) We request that if parents bring in items for children they are to put them on the table under the awning and make sure the item has your child's name on it.
2) Local businesses may deliver appropriate items to the school.  The business will have to follow all safety guidelines and procedures when delivering items.
3) Parents will need to communicate with the local business if the child attends A-day or B-day classes. Students who are 100% virtual will need a home address for delivery.
The COVID-19 pandemic has been a challenge unlike any other in modern times.  Parents, students, teachers, and businesses have had to be exceptionally flexible, understanding, and patient. We are appreciative of the support and patience our families have had during these unprecedented times.
LCHS is not responsible for lost or damaged items.
Respectfully,
Jack Lykins
Principal Lewis County High School
Click HERE for a PDF of the letter.