Some folks have asked about the resolution, or visual quality, of our e-edition product of The Lewis County Herald.
The e-edition is an exact replica of the printed edition of The Lewis County Herald and is updated each week for our digital subscribers as soon as we go to press (Monday mornings unless a holiday is involved).
In addition to the current edition, digital subscribers have access to those editions published in the past couple of months. And, subscribers are able to access complete news stories as soon as they are uploaded throughout the week, complete with email notifications of all new posts, if you want to receive those notifications.
Our e-edition is a PDF version of every page of our printed newspaper, and it is accessible on any computer web browser as well as on Apple, Android, and other tablet devices.
Click HERE for the actual front page of our e-edition published on August 2, 2016 (uploaded on August 1). The JPEG image (below) of the front page posted here each week is a low resolution version designed to load quickly and provide a glimpse of what is on Page One for the current week.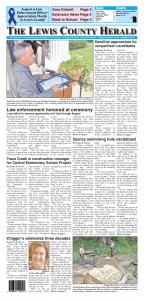 Add a digital subscription to your print subscription for only $5 a year. Call us at 800-572-2685 for details.
Annual stand-alone full-access digital subscriptions are available for just $15.
Details at http://www.lewiscountyherald.com/membersh…/membership-levels.