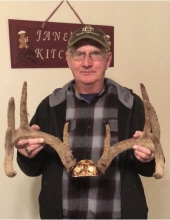 Rodney "Rick" Williamson, 67, of Vanceburg, passed away Thursday, December 19, 2019, at the University of Kentucky Medical Center in Lexington, Kentucky.
He was born August 27, 1952, in Lewis County, Kentucky, a son of the late Monroe Williamson and Goldie Cooper Williamson Crawford.
Rick worked until his retirement at CSX Railroad. He enjoyed hunting, fishing, riding his side by side and spending time with his family.
He is survived by his wife of 47 years, Jane Ellen Chatman Williamson; one son, Rodney Williamson of Vanceburg, Kentucky; one daughter, Angela (Darrell) Shope of Vanceburg; three grandchildren, Randy Wills, Adam Wills, and Emily Wills; three brothers, Gary (Myrtle) Willamson  and Randall (Arlene) Williamson of Vanceburg,  and Roy (Sharon) Williamson of Bucyrus, Ohio; and five sisters, Linda Mills, Dezra (John) Smith , and Hope Bayless, all of Bucyrus, Ohio, Patricia (Gary) Wood of Salesbury, North Carolina, and Carman Kenny of Vanceburg. He also leaves many other family members and friends who will sadly miss him.
Funeral services will be held at 1:00 p.m. Sunday, December 22, 2019, at Dickerson Funeral Home in Vanceburg, with Brother Bobby McCane and Brother Josh Wright officiating. Burial will follow in the Lewis County Memory Gardens in Vanceburg, Kentucky.
Friends may visit from 6:00 p.m. to 8:00 p.m. Saturday, December 21, 2019, and after 12:00 p.m. on Sunday at Dickerson Funeral Home, 110 West Second Street, Vanceburg, Kentucky 41179.
Condolences may be sent to the family at http://www.globefc.com.