The National Weather Service has increased their forecast for the Ohio River to crest at levels comparable to those reached in 1997.
A mid-day briefing indicated the Ohio River at Lewis County is predicted to crest at about 58 feet, about three feet higher than on Tuesday, slightly less than the 60.8 feet reached on March 5, 1997.
Additional predicted rainfall in the Ohio River watershed area is expected to result in the higher predicted river level on Tuesday, February 27.
People who live in areas near the river and where backwater will rise should take appropriate action.
Judge Executive Todd Ruckel emphasized the safety of citizens is paramount and urges those who may be affected to be prepared potential flooding.
Ruckel said preparations are underway to assist those who may be affected by the flooding.
Emergency Management Director George Sparks said he will continue to monitor the river levels and precipitation forecasts. He added that safety of residents is a primary concern and preparation of cleanup efforts as levels recede is underway.
Residents should continue to monitor the weather as well and develop a plan, if needed.
For information or assistance contact Lewis County Emergency Management at 606-796-3464 or, in case of emergency, call 911.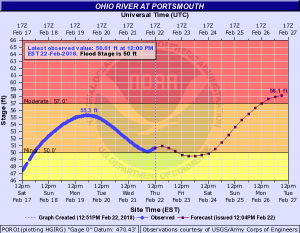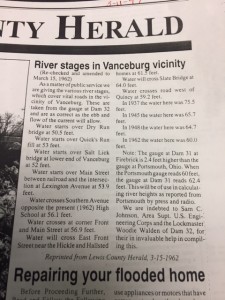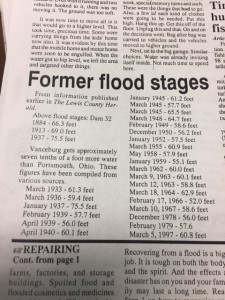 59.80 ft on 03/04/1997 at Portsmouth
60.8 ft pm 3/05/1997 at Vanceburg
61.20 ft on 03/05/1997 at Maysville