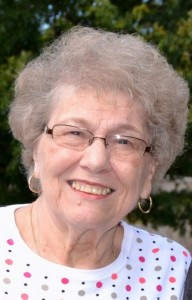 Ramona Conley Ratcliff, 83, formerly of South Portsmouth, died Thursday, February 7, 2019, at Worthington Christian Village in Columbus, Ohio.
She was born April 1, 1935 at Quincy to the late Francis Zornes Pennington and Edward B. Conley.
Prior to retiring and moving to Jackson, Georgia in 1997, Ramona enjoyed a long career at the Greenup County Library. She was also active in her church and was a longtime member of the South Portsmouth Homemakers.
Ramona is survived by her two children, Bonnie Cleary of Cumming, Georgia, and Jeff Ratcliff of Gahanna, Ohio; three grandchildren, Josh Cleary of Portland, Oregon, Joe (Michelle) Cleary of Cumming, Georgia, and Tessa (Charles) Sgro of Fort Mitchell; and five great-grandchildren, Owen, Wyatt, Finn, Violet and Oliver.
In addition to her parents, Ramona was preceded in death by her husband of 65 years, Denver Leroy Ratcliff, and the devoted grandmother who raised her, Goldie Roberson Meenach.
Services will be at 2:00 p.m. Monday, February 11, 2019, at Roberson Funeral Home in South Shore with Rev. Darrell Stephenson officiating. Burial will follow in Greene Cemetery at St. Paul.
Friends may call at the funeral home on Monday from Noon until the hour of services at Roberson Funeral Home.
Online condolences may be sent at www.robersonfuneral.com.