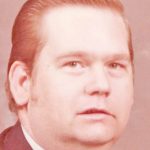 Phillip Leroy Lewis, 65, of Sciotoville, Ohio, passed away Sunday, March 29, 2020, at his home.
He was born May 3, 1954, in Portsmouth, Ohio, to Leroy and Nellie (Cartee) Lewis. Phillip was a 1974 graduate of Lewis County High School and worked as a Correction Officer for SOCF. In his spare time he enjoyed fishing, playing the guitar, hunting, and camping.
Phillip is survived by his wife, Julia (Montgomery) Lewis, whom he married on Christmas Day in 1974; son, Jeremy Lewis of St. Clairesville, Ohio; daughters, Julia Lewis of Sciotoville, and Lisa (Donnie) Queen of Albany, Ohio; sisters, Carolyn Fiffe of Garrison, Dorothy Potts of Sciotoville, Faye Barnett of Columbus, Ohio, and Brenda Crabtree of Columbus, Ohio; brother, Russell (Connie) Barnett of Garrison; and grandchildren, Ethan, Alexis, Mariah, and Ben.
In addition to his parents, he was preceded in death by sisters, Jenette Lintz, Helen Clemons, Kathryn Jerrell, Wyoma Sue Gallenstein, Jeanie Woods, Darlene Reed, Evelyn Boyd, and Dolly Jean Lewis; and his brothers, Lowell Lewis and Richard Barnett.
Due to the current national health advisories, private services will be held at a later date. Arrangements are being handled by D.W. Swick-Nelson Funeral Home in New Boston. Fond memories of Phillip and expressions of condolence may be shared at www.DWSwickNelsonFuneralHome.com.