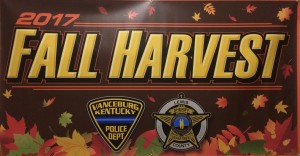 Operation Fall Harvest is underway in Lewis County where Sheriff Johnny Bivens says he expects more than 40 suspects will be arrested and jailed on drug-related charges. 

Bivens says the operation is a collaborative effort by the Lewis County Sheriff's Office and the Vanceburg Police Department. It began at 6:00 a.m. today with a briefing and assignments prior to officers fanning out across the county to make arrests. 

Bivens says this is the largest drug sweep in the history of Lewis County and adds the next sweep is already in the works.


"It's a win for law enforcement as well as for Lewis County," Bivens said. "Our purpose for this operation is to enforce the laws and our ultimate mission is to save lives."

"This effort shows tax dollars at work," says Vanceburg Police Chief Joe Billman.

"While we are separate law enforcement entities, our goals to help our community and get illegal drugs off the streets are the same," Billman added.

"It's a collaborative effort and we have put our pride behind us to work together toward a common goal," Billman said.

Bivens said he contacted Billman early in the planning stages of the effort to suggest joining forces.

"I approached Chief Billman to allow us to combine the manpower and financial resources of our two departments to develop a drug sweep across Lewis County that would identify and charge as many suspects as possible to get them off the streets," Bivens said.


"Operations like this require significant financial and staffing resources," Bivens said. "In small agencies such as ours, having the financial backing and adequate manpower are paramount in conducting a successful sweep and achieving the desired results."

Bivens said Billman readily agreed to the request and the two departments have been working as a team on the effort.

Bivens says the criminal indictments include a wide range of drug charges dealing with illegal sale and possession of prescription pills, cocaine, methamphetamine, heroin, and other illegal narcotics. The grand jury indictments had been sealed to keep details of the operation confidential and minimize the opportunity for suspects to flee.

The months-long investigation began early this spring. "We planted the seeds, monitored the crops and thought the first day of fall would be an appropriate time to harvest the fruits of our labor," Bivens said in comparing the roundup to the production of a crop.


"I fully understand that most, if not all families have been impacted in some way by drugs and we, as law enforcement officers, must remain compassionate when necessary but we also must be tough as hell when appropriate and today is the day to be tough as hell," Bivens said.

"Although the current climate seems to be going soft on crime, Sheriff Johnny Bivens, the Vanceburg Police Department and my office have put a lot of hard work into letting the drug dealers know, 'we ain't playing,'" said Commonwealth's Attorney Mel Leonhart.

"If you are out here peddling your poison, making money from other people's misery, we will prosecute you to the fullest extent of the law," Leonhart added.

"Part of the problem is the drug dealers have caught on that our laws are too lenient for most drug offenses.  For instance, the drug dealers know that the law allows them to be paroled after serving just 15 to 20 percent of their sentence," Leonhart said. 

"I promise you that we are going to do our part regardless," Leonhart stated.

Bivens said every person arrested in this roundup either sold or participated in the sale of illegal narcotics. 

"I would like to state that these are not individuals who possessed drugs for use themselves, they sold drugs to others with no regard whatsoever of whose hands they may end up in," he said. "We must hold these individuals accountable and be vocal about them receiving the proper punishment."

"I say 'we' because this is not just a law enforcement problem, it's a problem and concern across our county and all across the nation, and it takes a community to tackle this problem," Bivens said. 

"We cannot conquer anything that we are afraid to confront, so I urge all citizens to make the call and report when they see what appears to be illegal activity," he said.


"Our logic behind doing mass roundups like this is to send a message that we're going to be steadfast in our mission to address illegal drug activity throughout Lewis County," Bivens stated. "As of today, we are prepared to apprehend those predators who choose to continue to sell illegal narcotics and degrade our communities through their criminal acts." 

"Two years ago during our Operation March Madness Roundup, I made it clear that drug dealers are not welcome here in Lewis County," Bivens said. 

"Obviously, about 40 of them didn't get it," he added. "These types of individuals kill our neighbors, destroy our communities and increase violence and crime. As the Sheriff of Lewis County, I am all in to do what it takes to remove this poison from our communities."

"We will hear from naysayers that we didn't get this one or that one, and they are right. We didn't get them all. However, we will continue to be aggressive to find, identify and apprehend those who choose to peddle drugs in our county," Bivens said.

"To those who are struggling with addiction, it's not too late to get help," he added.

"I would like to personally thank those who assisted in the investigation leading up to today's harvest," Bivens said. 

"To the citizens of Lewis County who called and reported suspicious activity, we listened and we will continue to listen. To the Lewis County Attorney's Office, and Commonwealth's Attorney Melvin Leonhart and Assistant Commonwealth's Attorney Buddy Lykins, we couldn't do our job without your assistance and support. We thank you," Bivens says.