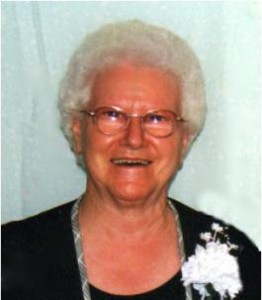 Margaret Louise Hoover Jordan, 91, of Vanceburg, passed away Sunday evening, January 24, 2016, at Hospice of Hope Care Center at Kenton Pointe in Maysville.
She was born October 25, 1924, in Crowder, Mississippi, a daughter of the late James Ansel and Sabrina Reidmiller Hoover.
Margaret attended Trace Fork Christian Holiness Church and was a homemaker. She enjoyed fishing, reading and playing with her grandchildren and great-grandchildren.
She was preceded in death by her husband of 25 years, Coy Edgar Jordan; one son, Coy Jordan Jr.; one granddaughter, Lisa Cooper; one brother, Edward Hoover; and three sisters, Edith Bruce, Barbara Hoover and Gladys Hoover.
Survivors include a son and daughter-in-law, Gary and Kathy Jordan of Vanceburg; two daughters and sons-in-law, Christine and Robert Cooper of Fostoria, Ohio, and Betty and James Estepp of Vanceburg; six grandchildren and their spouses, Tanya and Brad Smith, Coy and Debbie Jordan, Debbie and Neel Desai, Shawnare and Brian Duncan, Becky and Bryon Walker, and Kathy and Michael Hartley; and 16 great-grandchildren. She also leaves many other family members and friends who will sadly miss her.
Services were Wednesday, January 27, 2016, at Dickerson Funeral Home in Vanceburg with Bro. Russell "Bud" Burnett and Bro. Terry Cooper officiating. Burial was in Howard Cemetery at Vanceburg.
Coy Jordan, Zach Duncan, CJ Jordan, Bryon Walker, Michael Hartley, Brian Duncan and Brad Smith served as pallbearers.
Condolences may be sent at www.globefc.com.