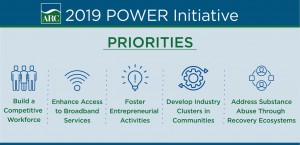 Judge Executive Todd Ruckel has announced that Lewis County has been awarded a grant to develop a broadband plan for the county.
The $76,000 grant has been awarded under the Partnerships for Opportunity and Workforce and Economic Revitalization (POWER) Initiative by the Appalachian Regional Commission (ARC). Lewis County will contribute $19,000 in matching funds for a total project amount of $95,000.
"We are working proactively to create better broadband service in Lewis County to benefit existing businesses and citizens as well as attracting new business with better and more reliable service," Ruckel said in announcing the grant.
Ruckel says the funding will be utilized to secure a qualified firm to conduct a feasibility study and create a strategic plan regarding broadband for the county.
The study/plan will analyze what broadband assets and resources now exist, what community needs are in regards to broadband for economic growth, and how to approach implementing such broadband action in the future.
"We will use this plan to implement the appropriate broadband infrastructure in phased construction into the county to spur economic development," Ruckel said
He added the plan will encompass and expand on the KentuckyWired initiative and the county's 'last mile' efforts.
"We have a broadband committee working together to help find avenues to deliver better service to all the county," Ruckel said.
The feasibility side of the county's plan will help to assess what broadband exists in the county and where; and what entities reside in the county and what their specific needs are (such as where is industry located, schools, business, and what type of broadband they have or may need).
Ruckel compared the strategic plan side to a roadmap to help the local committee know what the most pertinent needs are and where, as well as what types of broadband they need for each circumstance (fiber, DSL, Wi-Fi).
This strategic plan will help the county as they search for funding to implement the plan in phases as it's been identified through the study/plan.
Ruckel credited Amy Kennedy and Kristi Dodge with the Buffalo Trace Area Development District for their assistance in applying for the grant funding.
Ruckel said he anticipates the study/plan will take about a year from the beginning.
The POWER Initiative supports efforts to create a more vibrant economic future for coal-impacted communities by cultivating economic diversity, enhancing job training and re-employment opportunities, creating jobs in existing or new industries, and attracting new sources of investment.
The KentuckyWired plan was contracted by the Commonwealth of Kentucky to bring over 3,400 miles of high-speed, high-capacity fiber-optic Internet connectivity to its 120 counties.
KentuckyWired will significantly improve connectivity, increase speeds, and offer some of the fastest broadband capacity in the United States, helping to break down geographic and financial barriers to education and economic development, and help connect Kentuckians to the world.