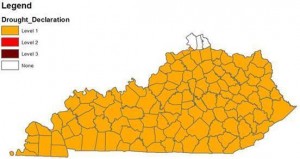 Kentucky Press News Service
The Office of the State Climatologist and the Kentucky Energy and Environment Cabinet, in coordination with the Kentucky Drought Mitigation Team, are issuing a Level I drought declaration for 117 counties in Kentucky.
A Level I drought indicates moderate to severe drought conditions have developed, primarily affecting soil moisture and vegetative health. Increasing incidents of wildfires and adverse impacts to agricultural water needs and public water supplies are likely if drought conditions persist, a state news release said.