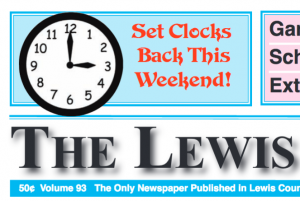 Daylight Saving Time will end at 2:00 a.m. Sunday, November 6, and we'll will get back the hour of sleep we lost during the spring time change in March.
If you aren't planning to be up at 2:00 a.m. Sunday, you can adjust your clocks before you go to bed on Saturday night.
Many clocks on computers and cellular phones will self-adjust for the time change and will not require human intervention to display the correct time after the change.
Saturday night will also be a good opportunity to replace the batteries in your smoke detectors as well as your clocks.
Since 2007, Daylight Saving Time begins in most states on the second Sunday of March and ends on the first Sunday in November.
December 21 will be the shortest day of the year and the duration of daylight each day will continue to decrease until then.
While we will get an extra hour of sleep out of the deal, we'll also get an extra hour of presidential politics.