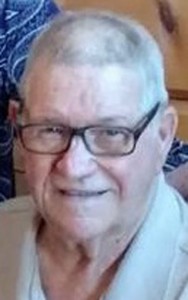 Homer Bernard Hilterbrandt, 80, of Concord, passed away Wednesday, April 26, 2017, at his home after an extended illness.
Bernard was born at Concord September 18, 1936, to the late George Homer and Mabel Virgin Hilterbrandt. He was a farmer, truck driver, and worked in the Maysville tobacco warehouses for 22 years. He was a member of Concord Christian Church and had worked in the Lewis County School District for 20 years. He loved telling stories and watching his cattle.
Survivors include his wife of 61 years, Nancye Hilterbrandt, whom he married September 10, 1955; one son, Rick (Karen) Hilterbrandt of Tollesboro; seven grandchildren Kimberly Foust of St. Louis, Missouri, Melanie (Nick) Groves of Carrollton, Bradley Hilterbrandt of Maysville, Ahren (Bryan) Purcell of Maysville, Adam Hilterbrandt of Tollesboro, Cory Hilterbrandt of Tollesboro, and Chad Hilterbrandt of Tollesboro; 10 great-grandchildren Michelle (Cody) Procter, Dylan Hollar, Kali Hollar and Jordan Groves, all of Carrollton, Anson Castle, Adelina Purcell, Aerilyn Purcell and Bradyn Hilterbrandt, all of Maysville, Keagan Hilterbrandt of Tollesboro, and Maverick Hilterbrandt of Vanceburg; and two great-great-grandchildren, Kenleigh Proctor and Kaine Proctor, both of Carrollton.
In addition to his parents, Bernard was predeceased by two sons, Randy Darrell Hilterbrandt and Rodney Todd Hilterbrandt; one Brother, Gary Hilderbrandt; a sister, Ramona Hook; and a sister in infancy.
Services will be at 1:00 p.m. Tuesday, May 2, 2017, at Gaydos Funeral Home in Vanceburg with Minister Larry Tucker officiating. Burial will follow at Concord Cemetery.
Friends may call from 5:00 p.m. until 8:00 p.m. Monday, May 1, 2017, and from 8:00 a.m. until the time of services Tuesday at Gaydos Funeral Home, 159 Second Street in Vanceburg.
Condolences may be sent at www.gaydosfh.com.