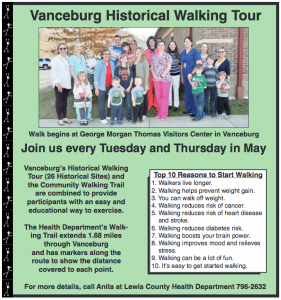 While exercise may be the definition of a strenuous workout to some, it takes on another meaning to others.
The Lewis County Health Department is coupling one of the easiest and most enjoyable forms of exercise with history as a way to keep residents in shape.
Anita Bertram, Director of the Lewis County Health Department, said Vanceburg's Historical Walking Tour and the Community Walking Trail are combined to provide participants with an easy and educational way to exercise.
Bertram said walking groups are being organized and will meet on Tuesdays and Thursdays this month at 4:00 p.m. at the George Morgan Thomas Visitor's Center for walking sessions. She said the groups allow for any one from beginning walkers to the more experienced to participate at their own pace.
The Health Department's Walking Trail extends 1.68 miles through Vanceburg and has markers along the route to show the distance covered to each point. Combined with Vanceburg's Walking Tour, participants are able to see the historic buildings and features in the city. Historic markers are placed at each property and a brochure also provides historic information on each property.
Bertram said she welcomes beginners to join and cover as much of the trail at their own comfortable pace. More advanced walkers may cover more of the trail at a faster pace. She said the average to cover the 1.68 miles is 50 minutes.