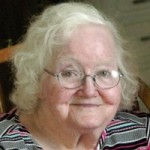 Hattie "Della" Sparks, 87, of Gibsonburg, passed away Friday, January 4, 2019 at Windsor Lane Health Campus.
She was born June 27, 1931.
Hattie was a devoted mom and grandma. She enjoyed quilting, reading, and watching Hallmark movies.
Hattie is survived by her children; Viola Chase and Joyce Nolen of Gibsonburg, Jerry (Deb) Sparks of Fostoria; one daughter-in-law, Mary Sparks of Vanceburg; thirteen grandchildren; twenty one great grandchildren; three great-great grandchildren; one sister, Maudra Jones of Findlay.
Hattie was proceeded in death by her husband of 58 years Jackie Sparks; one daughter, Robin Louise; one son, Virgle Sparks; one son-in-law, John Chase; one grandson, Brian Sparks; one great-granddaughter, Kayla Smith; and six siblings.
Services will be at 1 p.m. Tuesday, January 8, 2019 at Herman-Veh Funeral Home and Cremation Services at Gibsonburg.
Friends may visit from 3 p.m. until 7 p.m. Monday, January 7, 2019 and after 12 p.m. until the hour of services Tuesday at Herman-Veh Funeral Home, 319 W. Madison Street in Gibsonburg.
In lieu of flowers, memorials are suggested to http://www.americancancersociety.com.
Condolences may be sent to http://www.hermanfh.com.