The Lewis County FFA will be hosting a sponsorship dinner Thursday (October 17) to raise money for local FFA members to attend the national convention.
LCHS FFA President Shania Blake is one of the seniors who hope to attend the annual convention to be held in Indianapolis, Indiana, October 30 – November 2.
"This trip is going to mean more this year than past years because this is my last of high school," Blake said.
The dinner will be at the Lewis County High School cafeteria and the menu includes smoked ribs and chicken with all the sides.
Tickets for individuals are $10 each with business sponsorships available.
"We are taking 13 students to the convention this year," Blake said. "It will cost about $350 per student, not including meals."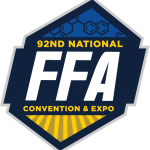 Blake says Thursday's fundraiser will begin at 6:00 p.m. The doors will open at 5:00 p.m.
She says the keynote speaker for Thursday's dinner will be Timothy D. Hughes, Senior Trade Advisor, Office of the Commissioner, Kentucky Department of Agriculture.
FFA State Board Member Kyle Kelly is also slated to speak to those attending.
Blake says the levels available for business sponsors are Combine at $200 (four tickets), Cultivator at $100 (two tickets ), Disc for $75 (two tickets), and Plow for $50 (two tickets).
The business sponsors will be recognized on the Lewis County FFA page in the convention program and they receive meal tickets for whatever level they sponsor.
"Any contributions are welcome," she adds.
About the speakers:
• Kyle Kelly is the Director of Government Affairs and Association Services with the Kentucky Retail Federation.
He is a former FFA member from Owen County and uses his relationship-building skills to elevate Kentucky FFA's goal in fundraising and advocacy.
• Tim Hughes is the Senior Trade Advisor for the Kentucky Department of Agriculture. He transfers to this position after serving three years as KDA's Deputy Executive Director for the Office of Marketing and immediately before that the Director of Biofuels for the Kentucky Energy and Environment Cabinet.
Prior to these roles, he served as the Senior Policy Analyst of the Governor's Office of Agricultural Policy where he also held various other roles in agricultural development since 2004.
Tim and his wife Lori own TLC Farms in Simpson County. He is a graduate of Western Kentucky University where he also served as their farm manager in 2002 and 2003.
Tim has served as the state chairman of two young farmer groups and has played leadership roles in various national farm organizations.
Tim and Lori reside in Frankfort where they are active members of Buck Run Baptist Church.
Blake says ticket-holders to Thursday's dinner will be eligible to win door prizes.
Contributions toward the trip may also be mailed to the LCHS FFA at PO Box 99, Vanceburg, KY 41179.
For ticket and dinner information call Blake 606-541-5585.