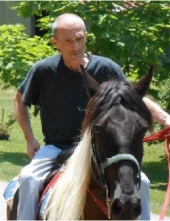 Erwin Michael Chapin 74, of Olive Hill, passed away Friday evening, November 9, 2018, at the Community Hospice Care Center in Ashland, Kentucky.
He was born September 12, 1944, in Silver Creek, New York, a son of the late Bradley and Nancy Newton Chapin.
Erwin proudly serve our country in the United States Army and he enjoyed riding horses, hunting, fishing and spending time with his family and friends.
In addition to his parents, he was preceded in death by one sister, Susie McMunn.
Erwin is survived by his wife of 25 years, Charlene Kubicek Chapin; four sons, Michael Paul Chapin of Ohio, Rodney Barman of Hamilton, Ohio, Mikie Chapin of Olive Hill, and Bradley Chapin of Marengo, Indiana; three daughters, Beth Robinson of Kansas, Michelle Vinyard of Hemet, California and Jeanna Azbill of Ohio; 11 grandchildren; two great grandchildren; two brothers, Andy Chapin of Columbus, Ohio and Kym Chapin of Lucasville, Ohio; and one sister, Penny Howard of Swartz Creek, Michigan. He also leaves many other family members and friends who will sadly miss him.
Funeral services will be held at 11 a.m. Tuesday, November 13, 2018 at Oney-Henderson Funeral Home in Olive Hill, with Brother Larry Harris officiating. Burial will follow in the McGlone Cemetery on Jordan Fork in Carter County.
Friends may visit from 10 a.m. to 11 a.m. Tuesday, November 13, 2018 at Oney-Henderson Funeral Home at Olive Hill.
Mikie Chapin, Michael Paul Chapin, Rod Barman, Brad Chapin, Larry Mock, Dustin Erwin, David Willoughby and Joey McGlone will serve as pallbearers.
Condolences may be sent to the family at http://www.globefc.com.