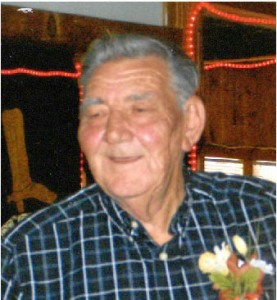 Ellis Jackson "Jack" Lambert, 80, of Olive Hill, formerly of Vanceburg passed away Friday evening, April 6, 2018, at his residence.
He was born May 16, 1937, in Lewis County, a son of the late Samuel and Beulah Dummitt Lambert. Jack was an ordained minister in the Kentucky Christian Holiness Conference, and a former Deputy Sheriff with the Lewis County Sheriff Department, during Virgil Cole and Bill Lewis' administrations. He enjoyed fishing, hunting, ginsenging and spending time with his family and friends.
Jack is survived by his wife of 12 years, Sharon Conkey Lambert; three daughters, Connie Logan of Hillsboro, Ohio, Linda Bolander of Garrison, and Ava Gay (George) McGinnis of Vanceburg; five sons, Michael Lambert of Jacksonville, Florida, Mitchell Lambert of Olive Hill, Bill (Josephine) Lambert and Lynn (Helen) Lambert, both of Buycrus, Ohio, and Sam (Carolyn) Lambert of Garrison; three step children; Joyce Jessie of Olive Hill, Angela Layne and Sam Layne, both of Lancaster, Ohio; three sisters, Mazie Butler and Margie Hughes, both of Bucyrus, Ohio, and Mary Clark of Garrison; one brother, Roger Lambert of Haspter, Ohio; 16 grandchildren; 13 great- grandchildren; and two great-great-grandchildren. He also leaves many other family members and friends who will sadly miss him.
In addition to his parents, he was preceded in death by his first wife, Frances Witten Lambert; one step son, Charles Patrick Layne; one sister, Mildred Lambert; and three brothers, Donald Lambert, Stanley Lambert, and Lester Lambert.
Services were held at 1:00 p.m. Tuesday, April 10, 2018, at Globe Family Funeral Chapel in Garrison with Pastor J.C. Bond officiating. Burial was in Witten Cemetery in Lewis County.
Family and friends served as pallbearers.
Condolences may be sent to the family at www.globefc.com.