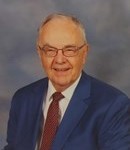 Dr. Bradley N. Walden, 78, passed away Thursday, January 3, 2019, at his home.
He was born November 2, 1940, in Lewis County, a son of the late Woodie Jr. and Correne Barbour Walden.
Bradley served in the Army as registrar, obtaining rank of Captain. He entered ministry and was ordained in 1967 serving as pastor at Tates Creek Christian Church for over 40 years, and participated in the Bridge Club of Lexington earning Gold Life Master.
Bradley is survived by his wife of 57 years, Barbara Sue Greer Walden; one son Mark (Kimberly) Walden of Cincinnati; one daughter Beth Walden Lee of Versailles; and ten grandchildren.
Services will be at 10 a.m. Saturday, January 12, 2019, at Tates Creek Christian Church. Burial will follow in Frankfort Cemetery.
Friends may visit from 5 p.m. until 8 p.m. Friday, January 11, 2019 at Tates Creek Christian Church, 3150 Tates Creek Road at Lexington.
In lieu of flowers, memorials are suggested to http://www.bluegrasschristiancamp.org.
Milward Funeral Home at Lexington is caring for all arrangements.
Condolences may be sent at http://www.milwardfuneralhome.com.