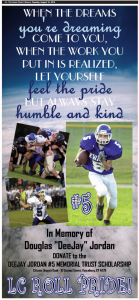 With the Lions Football season about to kick off, we'll take an opportunity to remember a dedicated team member of the Lewis County Lions.
DeeJay Jordan, a graduate of LCHS, died tragically in Lexington earlier this year. A trust scholarship fund has been established in his memory by his family.
This full page poster appears in the print edition of this week's Lewis County Herald and we've provided a link (below) to a full-size PDF for those who'd like to download it to print or share.
We ask that you help keep the memory and spirit of this young man going by making a memorial contribution to the DeeJay Jordan #5 Memorial Trust Scholarship.
http://www.lewiscountyherald.com/wp-content/uploads/2016/08/TLCH_081616_A_14.pdf