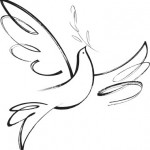 Catheleen Jordan, 94, of Garrison, went to be with her Lord Saturday, May 4, 2019, at Carter County Nursing and Rehab.
She was born in Carter County July 14, 1924, a daughter of the late Jasper Wilburn and Lettie Estepp Wilburn.
Catheleen was a member of the Big White Oak Apostolic Church.
Survivors include two sons, Lonnie (Brenda) Jordan of South Shore and Leroy (Cathy) Jordan of Garrison; four daughters, Nina Mae Zornes of Greenup, Viola (Lawrence) Burton of Greenup, Pauline (Cebert) Horsley of Garrison, and Josephine Dickerson of Garrison; 13 grandchildren; 25 great-grandchildren; and 25 great-great- grandchildren.
She was preceded in death by her husband Roy Jordan in 1976; a brother, Buster Wilburn; and two sisters, Lillie Mae Wolfe and Letha Zornes
Services will be at 1:00 p.m  Wednesday, May 8, 2019, at Roberson Funeral Home in South Shore with Bro. Jerry Jordan officiating. Burial will follow in Jordan Cemetery.
Friends may call from 6:00 p.m. until 8:00 p.m. Tuesday, May 7, 2019, and one hour prior to services Wednesday at Roberson Funeral Home.
Online condolences may be sent at robersonfuneral.com.