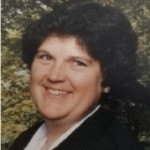 Anna Jean Shoemaker Truesdell, 58, of Vanceburg, passed away  Thursday morning, December 20, 2018, at her home.
She was born August 1, 1960, in Mason County, a daughter of the late Earl and Dorothy Ann Casto Shoemaker.
Anna was of the Christian faith and she enjoyed gardening, crocheting, sewing, canning and spending time with her family, especially with her grandchildren.
Anna is survived by her husband of 35 years, Johnnie "Frankie" Truesdell; two daughters, Arista Marie Truesdell of Orangeburg, and Angelica Renee Truesdell of Mayslick; four grandchildren, Dakota Price, Addison Barnett, Mackenzie Barnett and Dixie Price; six brothers, Wes Shoemaker of Erlanger, David Shoemaker of Orangeburg, Clark Shoemaker of Maysville, Charles Shoemaker of Tollesboro, James Pollitt and Clifford Pollitt, both of Brooksville; five sisters, Carol Hines of Morristown, Tennessee, Carrie Fetters and Susie Shoemaker, both of Maysville, Patty Brumley of Brooksville, and Sandy Young of Wisconsin. She also leaves many other family members and friends who will sadly miss her.
In addition to her parents, she was preceded in death by one son, Frankie Jean Truesdell; three brothers, Bennie Shoemaker, John Shoemaker and Steve Shoemaker; and one sister, Kathy Hedges.
Funeral services will be held at 11:00 a.m. Monday, December 24, 2018, at Tollesboro Funeral Home & Cremation Services in Tollesboro, Kentucky, with Brother Sam Jones and Brother Charles Emmons officiating. Burial will follow in the Mt. Carmel Cemetery in Fleming County.
Friends may visit from 6:00 p.m. to 8:00 p.m. Sunday, December 23, 2018, and after 9:00 a.m. on Monday at Tollesboro Funeral Home & Cremation Services, 11918 KY 57, Tollesboro, Kentucky 41189.
Paul Price, Mark Barnett, Steve Truesdell, Phillip Truesdell, Dennis Truesdell and Jessie Shoemaker will serve as pallbearers.
Condolences may be sent to the family at http://www.globefc.com.