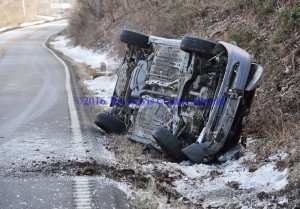 Deputy Gary Sparks is investigating a single vehicle accident on Ky. Rt. 8 near Flag Point Wednesday in which the vehicle involved flipped over.
Sparks said the accident happened about 1:00 p.m. as a 2000 Ford Focus, operated by Alicia M. Redden, 26, of Vanceburg, was traveling east on the roadway.
He said the right tires dropped off the right side of the roadway and Redden attempted to correct, traveling about 225 feet before the vehicle struck an embankment in the ditch and flipped over, coming to rest on the driver's side.
Redden and a passenger in the vehicle, Travis Shane Lightner, 29, of Vanceburg, were not hurt in the accident.
Traffic on the roadway was disrupted for about 30 minutes until the scene was cleared.
Sparks was assisted at the scene by Mike's Towing and Garrison Fire and Rescue.