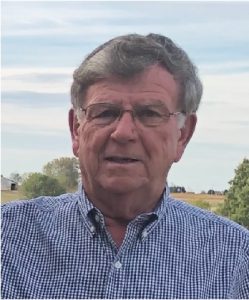 Walter Douglas Toller, 72, of Vanceburg, passed away Wednesday evening, May 12, 2021, at the Meadowview Regional Medical Center in Maysville, Kentucky.
He was born March 14, 1949, in Lewis County, a son of the late Burl and Agnes Pollitt Toller. Walter was of the Christian faith and he enjoyed being outdoors, gardening, helping others and spending time with family.
In addition to his parents, he was preceded in death by his two children, Lisa Gail Toller and Walter Douglas Toller Jr.; one grandson, Corey Douglas Ginn; four brothers, Lloyd Toller, Dale Mackey, Earl Toller and Burl Toller Jr.; and three sisters, Lena Wells Toller, Robin Toller, and Juanita Hilton.
Walter is survived by his wife of 44 years, Brenda Toller; one daughter, Kimberly Crawford (George) of Vanceburg, Kentucky; one step daughter, Carolyn Ruggles (Michael) of Tollesboro, Kentucky; two grandchildren, Laken Ginn and Lairen Ginn; three brothers, Lowell Buck Toller and Floyd Toller of Vanceburg, Kentucky, and Charlie Toller of Tollesboro, Kentucky; and four sisters, Jewell Lawson of Tollesboro, Kentucky, Bessie Kilbreth of Flemingsburg, Kentucky, Mary Lou Foster of Colorado Springs, Colorado, and Brenda Hollar of Wallingford, Kentucky. He also leaves many other family members and friends who will sadly miss him.
Funeral service will be held at 1:00 p.m. Saturday, May 15, 2021, at Tollesboro Funeral Home & Cremation Services in Tollesboro with Bro. John Byard officiating. Burial will follow in the Bethel Cemetery in Lewis County.
Friends may visit from 11:30 a.m. to 1:00 p.m. Saturday, May 15, 2021, at Tollesboro Funeral Home & Cremation Services, 11918 KY 57, Tollesboro, Kentucky 41189.
George Crawford, Matt Hollar, Ryan Plank, Johnny Hord, Bryan Hord, Robbie Hord and Larry Garvin will serve as pallbearers.
Condolences may be sent to the family at www.globefamilyfc.com.