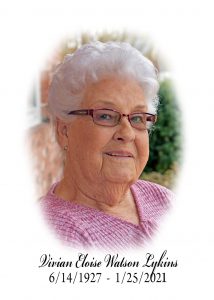 Vivian Eloise Watson Lykins, 93, of Vanceburg, passed away peacefully on Monday, January 25, 2021, at the home of her daughter. She was surrounded by her family.
Vivian was born at Petersville on June 14, 1927, a daughter of the late Hubert and Rachel Kegley Watson.
Vivian was a homemaker and and worked for US Shoe Corporation in Vanceburg. She was a self-employed businesswoman, having owned and operated Lykins Grocery for 15 years along with her late husband, Donald Lykins. Vivian also worked for First National Bank as a teller. She was a member of Vanceburg First Baptist Church.
Left to cherish Vivian's memories are two daughters, Sandra (Bill) Blevins of Vanceburg and Debra Prater of Morehead; four sons, Donald (Brenda Sue) Lykins Jr., Roger (Brenda Joyce) Lykins, Richard Lykins, and David T. (Beverly) Lykins all of Vanceburg; two sisters, Doris Stamm of Wallingford, and Alma Gilbert of Vanceburg; three brothers, Frank Watson and Earl Watson of Columbus, Ohio, and Wendell Watson of Clintwood, Virginia; 11 grandchildren, 18 great-grandchildren and one great-great-grandchild.
In addition to her parents, she was preceded in death by her husband of 69 years, Donald M. Lykins; a daughter-in-law, Sue Lykins; a son-in-law, Allen Prater; a sister, Geri Dewey; a brother, Kenneth Watson; and a grandson, Keith Prater.
Private services will be Friday, January 29, 2021, at Gaydos Funeral Home in Vanceburg with Dr. Howard Wilson officiating. Entombment will follow in Lewis County Memory Gardens at Black Oak.
Pallbearers for Vivian Eloise Watson Lykins will be Billy Don Blevins, Shane Lykins, Shannon Lykins, Monte Lykins, David Lykins, Tommy Lykins, and Todd Prater.
Due to COVID-19 regulations we ask that you wear a mask and practice social distancing.
Condolences may be sent to the family at www.gaydosfh.com.