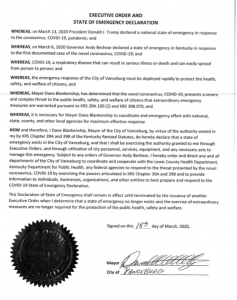 Following federal, state, and county declarations of emergency, Vanceburg Mayor Dane Blankenship has declared a state of emergency for the City of Vanceburg.
Blankenship said he is additionally closing city offices to all in-person services.
The declarations become effective at 2:00 p.m. today (3/18/2020) and will remain in effect until further notice.
"I want to assure our citizens that we will continue to staff our offices and we will be available by telephone," Blankenship said. He added that city trash pick-ups will remain on regular schedule and police officers will continue all regular patrols.
The emergency declaration will assist in coordinating efforts with other agencies on the state and national levels.
In closing city offices to in-person public access, the efforts to slow the spread of the novel coronavirus, COVID-19, will be increased.
"This will help to ensure the spread of this potentially deadly virus is slowed to a manageable rate," Blankenship said.
"I am asking anyone who feels they may need to personally visit a city office to call and we will determine the appropriate action on a case-by-case basis," he said.
The declaration can also be useful for the rapid deployment of emergency services in this time of uncertainty, he added.
The restrictions do not extend to the Electric Plant Board Office which will continue to accept payments at the drive-thru as well as in the lobby.
Plant Board Superintendent Bill Tom Stone says he is requesting customers to keep a minimum distance of six feet apart and thoroughly wash their hands frequently.
Mayor's Office: 606-796-6003
City Clerk: 606-796-3044
Vanceburg Police: 606-796-2111
Note: The Lewis County Herald has removed the paywall on coverage of COVID-19 related stories, providing critical information to our readers.
To support continued vital reporting such as this, please consider a subscription starting at less than 30 cents-a-week.