By Lisa Gillespie and Melissa Patrick
Kentucky Health News
Gov. Andy Beshear reported 2,700 new cases of the novel coronavirus on Wednesday, the highest since Kentucky saw its first case in March.
That brought the state's seven-day rolling average of new cases to 2,075, 152 more than it was Tuesday, an increase of eight percent.
Lewis County Health Director Anita Bertram said she is also seeing a spike in positive Lewis County cases.
Bertram said Lewis County is now at 406 total confirmed cases of COVID-19 with 76 of those currently active.
She said the local health department confirmed 13 new cases Tuesday and six new cases on Wednesday.
"Remember, the more cases we have, the more people that are affected, the more people who will need hospitalization, the more people who will be in the ICU, the more people we'll lose," Gov. Andy Beshear said during Tuesday's daily briefing. "And as we're finding out, the more people who will have long-term complications. The real damage and devastation of this virus, we don't fully know yet. So again, it's really important that you do your part to start tamping down these cases."
As cases continued to escalate, the state reported a new record for the number of COVID-19 patients in Kentucky hospitals: 1,274. Of those, 297 are in intensive care and 151 of those are on a ventilator.
The share of Kentuckians testing positive for the virus in the past seven days also continues to rise, reaching 8.12 percent Wednesday, another record for the months since testing became widely available.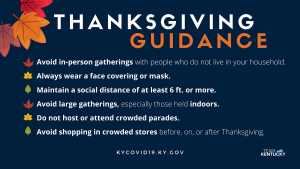 State Health Commissioner Steven Stack offered some guidance for the Thanksgiving holiday, which includes: avoiding gatherings with people who don't live in your household, wearing a mask when not eating or drinking, social distancing, avoiding large indoor gatherings, not attending or hosting crowded events, including parades, and avoiding shopping in crowded stores before, on or after the holiday.
Stack, a physician, described Thanksgiving and its risks: "We take a large number of people, often from different households and from different states and cities and regions, we put them indoors in a small, confined space . . . We take off our masks . . . We eat and we drink, which increases our salivation . . . and then we talk and we laugh and we joke and we shout and we sing, and we do all sorts of things that spray that saliva throughout the room. That's a perfect recipe to spread this virus. So as you make your plans for the holidays, I urge you: 2020 has been a mess for all of us. We've got to hang in there just a little bit longer. . . . Don't do the things that make us at highest risk."
The governor also issued a warning for Kentuckians who are considering gathering for the Thanksgiving holiday.
"It is a special time for my family that is normally spent with a lot of extended family," he said. "But this year, those larger gatherings can be very dangerous. Those that you may think that you may only have five, 10 Thanksgivings left with, if we're not careful this year, you might not have more than one."
Stack also noted that the latest recommendations from the White House Coronavirus Task Force, which were released Tuesday, continues to line up with the state's recommendations.
The report calls on Kentuckians to wear a mask, physical distance, practice hand hygiene, and to isolate and quarantine if infected or exposed. It says to limit restaurant indoor capacity to less than 50% and to restrict their hours, to not gather without a mask with people living outside your household, to stop gathering with anyone outside your immediate household until cases and test positivity are in the yellow zone, to get a flu shot, and for students and teachers in K-12 schools to wear a mask. It also calls for an aggressive messaging campaign that targets rural communities, and offers detailed recommendations for testing.
Regarding the recommendations, Stack said, "I know there are some who aren't gonna listen; I hope you listen; I'm urging you to listen for your own well being and that of your family, your friends, your neighbors."
Note: The Lewis County Herald has removed the paywall on coverage of COVID-19 related stories, providing critical information to our readers.
To support continued vital reporting such as this, please consider a subscription starting at less than 30 cents-a-week.