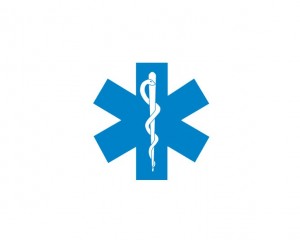 Lewis County Judge Executive Todd Ruckel says a meeting with ambulance service officials produced promising efforts to improve response times in the county.
Ruckel and other local officials traveled to Portsmouth Ambulance administrative offices to discuss concerns with officials there.
"We brought up the concerns we had with the owners and administrators with Portsmouth Ambulance and they genuinely responded with plans to address those concerns," Ruckel said after the meeting.
He was accompanied by Sheriff Johnny Bivens, E-911 Director Mike Sparks and Emergency Management Director George Sparks.
Ruckel said they met with Mike Adkins Sr., Mike Adkins Jr., and Brian Estep at Portsmouth Emergency Ambulance Service, Inc. (PEASI).
Ruckel said the meeting was prompted by concern over response times for ambulance personnel to arrive at a location after being dispatched.
Ruckel said he had received reports that at times it takes 30 minutes or longer for an ambulance to get to the scene once they are dispatched.
Ruckel said some of the solutions discussed included placing more experienced crew members with every unit that will be operating in Lewis County.
"That should help with the responders knowing more about the areas they will be responding to," he said.
"We also discussed urging our residents to prominently display their house numbers so they will be visible from the roadway," he said, adding the county will also be reviewing how well county roadways are marked.
Ruckel said the PEASI officials reported they will now be able to call on crew members who will be working out of a new station located in Mason County. "That will help with calls in the western end of our county," Ruckel added.
He said the officials also said crews located closer to Lewis County will be the first to provide back-up to units inside the county and added that crews that are coming into the county to cover for a unit that travels outside the county with a patient, will be stationed at Vanceburg rather than on the eastern edge of the county.
"That will help to improve response times to other areas of the county," he added.
Ruckel said the possibility of training local firefighters to help out the ambulance service as first responders was also discussed.
"There are some details that would have to be worked out but the officials were receptive to all our suggestions," Ruckel said.
Ruckel said the officials also mentioned a scholarship program they provide for those interested in becoming EMTs. "The next classes will begin at Shawnee State University in Portsmouth on January 13th," Ruckel said. "Those completing the program are basically guaranteed a job with the ambulance service."
Ruckel said the officials agreed to meet quarterly to discuss any concerns that may arise and said he was given direct contact information for the officials with a request to contact them immediately with any issues that may arise.
"I am pleased with the response we received from the officials and believe they genuinely want to improve their service to the citizens of Lewis County," he added.
Ruckel initially brought up the concerns during the November meeting of Lewis County Fiscal Court after hearing from several people.
"I'm getting some phone calls about our ambulance service's slow response times," Ruckel told magistrates during the session.
"On some occasions there are slow response times," he said. "We've pulled some of our CADs from 911."
CAD is short for computer-aided dispatch. The system at the 911 dispatch center produces incident reports that include the times that police, fire, rescue and other first responder units are dispatched to a location, when they arrive there, and when they depart.
Ruckel and magistrates discussed the possibility of applying for a second certificate of need for the county during the meeting but tabled any action on the matter to allow Ruckel an opportunity to address the issue with ambulance officials.
"I've got a 20-page application that has to be filled out. That has to be submitted by January 24th, that's the next cycle," he said at the fiscal court meeting.
"If we get that submitted by January 24th, they will have a public notice and hearing on March 15th," Ruckel said.
The hearing would allow interested parties to be present and speak for or against allowing a second certificate of need to be granted for the county.
"Our application doesn't need to be in until January 24th. Do you all want to talk to some of your constituents and see what you get?" Ruckel asked magistrates.
Magistrate David Iery suggested tabling the matter to allow Ruckel time to talk with Portsmouth Ambulance officials and try to work out a solution and also allow magistrates time to speak with their constituents concerning the issue.
"I'll make a motion to table it until next month but I'd like to hear back what they tell you," Iery told Ruckel.
Magistrate Woody Underwood seconded the motion and all members voted in agreement.
The next regular meeting of fiscal court is scheduled for 2:00 p.m. on December 11 on the third floor of the Lewis County Courthouse.