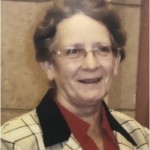 Rosewood Holbrook Richmond, 68, of Elliott County, passed away, Tuesday, December 11, 2018, at her home.
She was born December 18, 1949, in Lewis County, a daughter of the late Luster and Annie Cathrine Bear Holbrook.
Rosewood was a member of the Macedonia Old Regular Baptist Church and worked until her retirement at Carter Caves State Resort Park. She enjoyed working in her flower bed, gardening and spending time with her great grandson, Noah.
In addition to her parents, she was preceded in death by her husband of 39 years, Ray Richmond; two brothers, Wendell Holbrook and Larry Holbrook; and one sister, Bernice Holbrook Maggard.
Rosewood is survived by one son, Rocky (Cindy) Richmond of Olive Hill, Kentucky; one daughter, Vince (Dusty) Osborne of Olive Hill; three grandchildren, Crystal Fountain,  Katelynn Fountain of Grayson,  Annie Fountain of Morehead, their father, Luther Thomas Fountain of Olive Hill; two great grandchildren, Noah Galligher and Hudson Fountain of Grayson; three step grandchildren, Brandy Holbrook and Sara Lewis, of Olive Hill, Aaron Lewis of Ashland; eight step great grandchildren; four brothers, Elmo (Doris) Holbrook,  Carson (Ela Mae) Holbrook, of Olive Hill, Wesley Holbrook of Lexington, Stoney Holbrook of Sandy Hook; one sister, Judy Waggoner of Olive Hill. She also leaves many other family members and friends who will sadly miss her.
Services will be held at 1 p.m. Sunday, December 16, 2018, at Globe Funeral Chapel in Olive Hill, with Old Regular Baptist Ministers officiating. Burial will follow in the Richmond Cemetery in Elliott County.
Friends may visit from 6 p.m. to 9 p.m. Saturday, December 15, 2018, and after 9 a.m. on Sunday at Globe Funeral Chapel, 17277 West Highway US 60, Olive Hill, Kentucky 41164.
Family and friends will serve as pallbearers.
Condolences may be sent to the family at http://www.globefc.com.