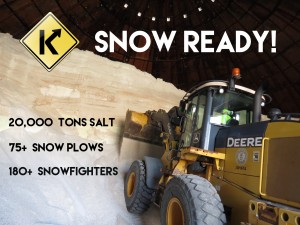 With salt stocked and trucks prepped, state snowfighters stand ready to battle an approaching winter storm that could bring the heaviest snow yet to the area Friday and Saturday.
Highway equipment operators in Lewis and other counties comprising District 9 took advantage of milder weather in recent days to perform maintenance checks on salt trucks and snow plows, making sure everything's prepared for snow duty. Salt domes are currently stocked with about 20,000 tons of salt.
State and county road crews will keep a close eye on weather forecasts and will mobilize Friday, ready to roll as soon as wintry precipitation hits.
While forecasts differ, the National Weather Service predicts morning rain will be followed by afternoon freezing rain or sleet then accumulating snow. Temperatures are expected to drop quickly throughout the day, with lows in the teens overnight.
It's unlikely crews will be able to pretreat roadways Friday because rain will wash away any brine or other chemicals. But, crews will remain on alert and can treat highways with salt when ice or snow starts to fall, according to Allen Blair with District 9.
Even with salt trucks on roads, motorists should prepare for slick travel Friday afternoon as freezing rain creates ice that's harder to remove from pavement.
Motorists are urged to exercise caution and patience, and remember that during snow removal operations:
•  It takes time to clear snow from 2,000 miles of roadways. Kentucky Department of Highways District 9 crews plow heavily-traveled Priority A routes first, and keep plowing until they hit all roads. See priority routes and learn more at http://SnowKY.ky.gov.
•  As snow falls, it piles up behind plows. Roads probably won't be clear until the storm passes. But, crews are dedicated to working 12-hour shifts until the job's done.
•  If you don't have to drive in snow, don't. If you do, take it slow, leave space between vehicles to allow for safer braking, and remember that bridges and overpasses can freeze before roadways. Check real-time traffic info at http://GoKY.ky.gov.
The public may also follow District 9 operations on Twitter and Facebook at http://twitter.com/KYTCDistrict9 or http://facebook.com/KYTCDistrict9.