While there are at least 198 confirmed positive cases of COVID-19 in Kentucky, none of those cases are in Lewis County or in any surrounding county.
Some people had posted on social media that there are cases in Lewis County. There are reported cases in Lewis County, TENNESSEE, but not here in Lewis County, Kentucky.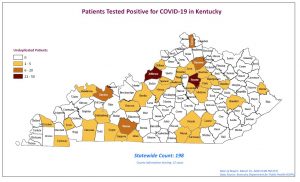 Others have said there are cases in Grayson. Cases have been reported in Grayson COUNTY, Kentucky, but not at Grayson in Carter County.
Judge Executive Todd Ruckel says officials are prepared locally and adds that tests have been performed in Lewis County but have either had negative results or the results have not yet been returned. Those residents are self-quarantining.
Judge Ruckel encourages everyone to follow these steps to prevent illness.
"I want to thank every one in our community who is sacrificing and doing their part in helping to flatten the curve, to slow the spread of COVID-19," Ruckel said. "We need to keep our elderly and other at-risk residents in mind and reduce any chance of spreading this virus to them."
Kentuckians who want advice can call the state hotline at 800-722-5725 or call their local health care provider.
Judge Ruckel and other local officials are continually providing local information for our stories and making daily broadcasts on WKKS Radio.
Ruckel urges everyone to be cautious of rumors and only depend on proven and reliable sources of news.
As of 5 p.m. Wednesday, there are 198 confirmed positive cases with 35 of those being new. Kentucky is one of only a few states that have been able to give a report of fewer new cases than the day before.
Governor Andy Beshear reported yesterday that a 75-year-old male from Jefferson County has passed away related to the virus. There are now five deaths attributed to the virus.
[This story is being provided for free to our readers during the coronavirus outbreak. Consider supporting local journalism by subscribing to The Lewis County Herald at http://www.lewiscountyherald.com/membership-account.]