Lola Belle Thoroughman passed away, called by the Lord on December 8, 2021.
She was born November 16, 1922, to the late Ralph Thoroughman and Lula Applegate Thoroughman. She was preceded in death by a brother, Carl Thoroughman, and a sister, Myrtle Thoroughman.
People important to her and loved very much were her Aunt Belle Applegate Williams, and a cousin Angress Kinney. Lola was a child of the depression but was blessed with family that could care for her during this time, the Applegate's of Happy Holler. After she married she had a son, Russ and had to move to Cincinnati to work in the factories for the war effort leaving her son with his father's family his mother and his sisters who took care of the child for some time. She then learned she was to have another child. A daughter they named Annabelle.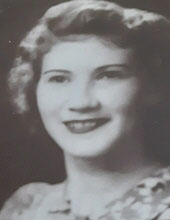 During the war she was notified her husband was a prisoner of war with the German army after being wounded. It was an unsure time for her and his own family, but he was finally liberated though wounded he returned to America and spent time in the hospital. They reunited and had  another daughter, Sandra.
As her children, we learned much from her especially the need for education and a hard working attitude. Lola was at times working for Crosley in Cincinnati and in Florida for Martin Marietta Company under military work. She was a home maker and looked after her war veteran husband at the time and was instrumental in his receiving his medical benefits and retirement from the Army.
Lola lived a long life, interesting, at times happy, at other times suffering as we all do. In her later years we think it was her great grandchildren that brought her the most happiness. In her later years she had divorced and devoted much time and effort to researching and writing about her ancestors, completing a few books on this subject.
She had two loving grandchildren, Lisa Naar and James Andrew Scott; two great-grandchildren, Derek and Maxwell Robertson; and two great-great-grandchildren, Jayden and Emry Robertson.
At a later date Lola will be interred with her mother, Lula Applegate, at Bethel Cemetery in Ribolt, Kentucky.