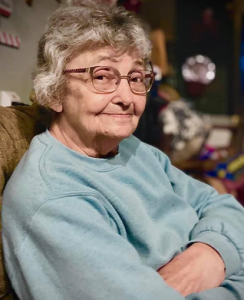 Marguerite "Mickey" Evans, 85, of Vanceburg, passed away Friday, May 14, 2021 at her home.
Mickey was born October 28, 1935, in Mackinaw, Michigan, a daughter of the late Joe R. and Isabelle Wilcoxin Duncan.
Mickey worked for US Shoe Corporation in Flemingsburg for 30 years. She also worked for Ken's New Market in Flemingsburg and was a homemaker. She was known for being an excellent seamstress and she loved reading poetry and working word puzzles. Mickey was a faithful member of Petersville Church of God.
Left to cherish Mickey's memories are her daughters, Robyn Dianne Tolle of Vanceburg, Sherry (Dale) Duncan of West Union, Ohio, and Amanda Renee (Brian) McElroy of Mississippi; three sons, Edward Gordon (Wilma) Evans Jr. of Wallingford, Colin Ray (Denise) Evans of Camp Dix, and Mark Shannon (Mindy) Evans of Maysville; three sisters, Louise Evans and Jeannie Faragone of Cleveland, Ohio, and Roberta (Greg) Sparks of Vanceburg; three brothers, Charles (Jerry) Duncan of Mansfield, Ohio, James Jarrells and Archie Duncan, both of Vanceburg; 11 grandchildren; 20 great-grandchildren, and five great-great-grandchildren.
She was preceded in death by her husband, Edward Gordon Evans, in 2001; a grandson, Billy Carver; a son-in-law, Joseph Mitch Tolle; and three brothers, Joe Robert Duncan Jr., Colin Duncan, and Jack Duncan.
Services will be at Noon Tuesday, May 18, 2021, at Petersville Church of God with Bro. Edward Gordon Evans Jr. officiating. Burial will follow in Fleming County Cemetery.
Visitation will be from 5:00 p.m. until 8:00 p.m. Monday, May 17, 2021, at Gaydos Funeral Home, 159 Second Street in Vanceburg.
Pallbearers will be Joe Tolle, Matt Evans, Bobby Carver, Travis McKee, JJ Bishop, Mark Evans, and Aaron Toller.
Due to COVID-19 regulations we ask that everyone wear a mask and practice social distancing.
Condolences may be sent to the family at www.gaydosfh.com.