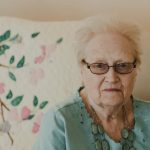 Mary Marcella Hamm, 85, of Vanceburg, passed away Sunday, March 28, 2021, after an extended illness.  Her family was at her side.
Marcella was born at Grayson on December 5, 1935, a daughter of the late Jack Robinson Kibbey and Flora Ellen Perkins Johnson.
Marcella was a graduate of Prichard High School Class of 1952. She was the salutatorian of her class. She went on to Georgetown College, graduating with a bachelor of arts degree in 1957. She was a member of Sigma Kappa Sorority.
She began her career as a social worker in Louisville, later moving back to Eastern Kentucky where she taught high school French and other subjects.
She married George Ray Hamm on August 13, 1960, and continued teaching at Lewis County High School until starting a family in 1962. She  resumed her career as a social worker in 1974, and finally retiring in 1991.
She was a member of the Alum City Chapter 222 Order of Eastern Star and Past Mother Advisor for the Rainbow Girls, she also served as Mother's Club President for the DeMolay. Marcella was a member of Vanceburg Christian Church, serving in the music department and teaching Sunday School for many years. Her devotion to her faith was foremost in her life.
Left to cherish Marcella's memories are two daughters, Robin (Richard) LaValley of Portsmouth, Ohio, and Renee Wampler of Vanceburg; one son, GR Hamm of Portsmouth, Ohio; five grandchildren, Richard "Trey" (Lindsey) LaValley III of Centerville, Ohio, Christopher Wampler, Taylor LaValley, Bret Wampler, Derek Wampler, and Contessa (Britton) Adams; a sister, Jeannie Johnson of Northern Kentucky; and her great-grandchildren, Skylar Adams, Elysia Adams, Ethan Adams, Laney LaValley, and Mila LaValley.
In addition to her parents, she was preceded in death by her husband George Ray Hamm on March 21, 1999; a daughter, Margo Hamm on May 5, 2015; a son-in-law, Christopher Dale Wampler on August 6, 2014; three sisters, Mary Sue Stovall, Linda Faye Fannin, and Judy Johnson; and a brother, Joe Johnson.  
Services will be at 1:00 p.m. Saturday, April 3, 2021, at Vanceburg Christian Church with Bro. Daniel McClurg officiating. Entombment will follow in Lewis County Memory Gardens at Black Oak.
Pallbearers will be Chris Wampler, Bret Wampler, Trey LaValley, Taylor LaValley, Britton Adams, and Seth Fannin.
Visitation will be from 11:00 a.m. until 1:00 p.m. Saturday, April 3, 2021, at Vanceburg Christian Church.
In Lieu of flowers, memorials are suggested to Vanceburg Christian Church, 408 Front Street, Vanceburg, KY 41179.
Due to COVID-19 regulations, we ask that everyone wear a mask and practice social distancing.
Condolences may be sent to the family at www.gaydosfh.com.