A safety training to help prepare local churches and businesses for possible active threats has been scheduled for Thursday evening, February 13.
Judge Executive Todd Ruckel said the free training will be offered Thursday (2/13/20) beginning at 5:30 p.m. on the third floor of the Lewis County Courthouse.
"I expect the sessions to last between two and three hours," Ruckel said.
Presenters will include Sheriff Johnny Bivens and members of the Lewis County Sheriff's Department as well as Emergency Management Director George Sparks.
Ruckel said a featured presenter will be James Stephens.
Stephens retired from the Kentucky State Police in 2015 while serving as the Post Commander for the Ashland Post. He has over 20 years of experience with KSP.
During his law enforcement career, Stephens was a firearms instructor, hostage negotiator, and an active shooter instructor.
Stephens met with Ruckel and Bivens recently the training and discuss the points that will be covered during the session.
"An active threat could be someone who walks in your front door, or a violent storm capable of hurting your employees and the people inside your church or building," Ruckel said.
"We want our residents to be as safe as possible and we hope to share some tips and insights on helping our church and business leaders protect those inside their facilities," he added.
"This training will only cover the basics," Ruckel said. "We encourage everyone to have a plan to deal with any type of active threat and customize that plan to their specific workplace or church facility."
Ruckel said some basic first aid training, including techniques to stop the bleed will be offered.
"It's something I wish we didn't have to train for," Ruckel said of preparing for potential active threat situations.
"In this day and time, it is something we must be ready for," he said. "It is a very real concern."
Ruckel said being prepared for possible active threats by people should be approached in the same way as we prepare for a fire or severe weather.
"We have fire extinguishers and a plan in place in case there is a fire," he said. "We have plans if the electric goes out or we get five inches of snow."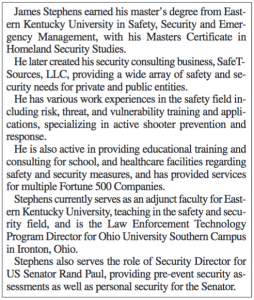 "We should have a plan if someone comes into our church or business with the intent to do harm," he said.
"These things may never happen, but we must be prepared in case they do," Ruckel said.
Ruckel said there are common-sense steps we can take that will help improve safety and preparedness at little expense.
Other steps, such as video monitoring or an alarm system, have an associated expense but can be invaluable in many situations.
Anyone with questions, or for more information about the training, may contact the judge executive's office at 606-796-2722.