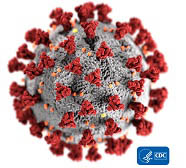 Lewis County Health Director Anita Bertram said the 13th case of coronavirus in Lewis County was confirmed Tuesday.
She said health department workers are making contact investigations and follow-ups with these newest cases.
Details about the individuals will not be provided because of medical privacy laws.
Local coronavirus testing is free for anyone age 18 and older and is available by appointment at the Lewis County Health Department four days a week.
Lewis County's first confirmed case was reported on March 25. The second case, reportedly connected with the first, was confirmed on April 2.
On April 19 a case was reported by the state but was determined to be a former resident of Lewis County.
The third local case was reported on April 22.
The fourth case was confirmed on May 6 and the fifth case on May 7.
Cases six and seven were confirmed on May 11.
All of those seven cases are now fully recovered, Bertram said, leaving six active identified cases in the county on Tuesday.
Cases eight and nine (connected) were confirmed on June 5 and 7.
By Saturday, June 13, health workers had confirmed cases 10 and 11 (not connected), with the 12th case (an infant less than one-year-old) confirmed Monday morning (June 15).
The 13th case was confirmed Tuesday, June 16.
The Lewis County Health Department has expanded COVID-19 testing by appointment Monday, Tuesday, Thursday, and Friday afternoons with drive-through testing continuing on Tuesday mornings.
To make an appointment to be tested, or for more information, call the Lewis County Health Department at 606-796-2632.
Lewis County residents may dial 606-202-8600 for more information on COVID-19. The state hotline is 800-722-5725.
**********
Note: The Lewis County Herald has removed the paywall on coverage of COVID-19 related stories, providing critical information to our readers.
To support continued vital reporting such as this, please consider a subscription starting at less than 30 cents-a-week.