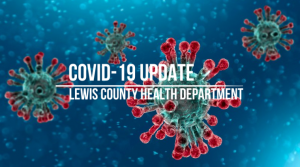 Officials have announced 12 confirmed cases of COVID-19 in Lewis County, including an infant.
Lewis County Health Director Anita Bertram said she is aware of 12 cases of coronavirus in Lewis County after three new cases were diagnosed over past week.
"We are in the process of making contact investigations and follow-ups with these newest cases," Bertram said.
She added she is concerned with the recent local surge in cases, adding she has noticed several area residents failing to practice social distancing and not wearing masks while out in public.
"A few simple precautions will help to curb our numbers," she said.
Bertram says workers through the health department are in the process of identifying and contacting those who may have come into contact with the infected persons.
These identified individuals will then be monitored for fever and other COVID-19 symptoms.
Details about the individuals will not be provided because of medical privacy laws.
Judge Executive Todd Ruckel says he urges everyone who can to take a coronavirus test.
"The testing will be free for anyone age 18 and older," he said. "We are very fortunate to have testing available here five days a week for the members of our community."
"It is important that we determine every individual who has been infected with this virus," Ruckel said.
Lewis County's first confirmed case was reported on March 25. The second case, reportedly connected with the first, was confirmed on April 2.
On April 19 a case was reported by the state but was determined to be a former resident of Lewis County.
The third local case was reported on April 22.
The fourth case was confirmed on May 6 and the fifth case on May 7.
Cases six and seven were confirmed on May 11.
All of those seven cases are now fully recovered, Bertram said, leaving six active identified cases in the county on Monday morning.
Cases eight and nine (connected) were confirmed on June 5 and 7.
By Saturday, June 13, health workers had confirmed cases 10 and 11 (not connected), with the 12th case (an infant less than one-year-old) confirmed Monday morning (June 15).
Bertram said earlier reports of 13 confirmed cases are inaccurate, adding she believes one of the cases is a duplicate with the individual having tested positive twice for the coronavirus.
Ruckel asks residents to follow recommended guidelines to help to continue to slow the spread of the virus as much as possible.
"Treat everyone you come into contact with as though they have the virus," he said.
"I urge everyone to wear a mask when they go out in public, and stay at least six feet away from the next person," Bertram said. "Everyone should know the drill by now about social distancing and washing your hands."
The Lewis County Health Department has expanded COVID-19 testing by appointment every weekday afternoon with drive-through testing continuing on Tuesday mornings.
To make an appointment to be tested, or for more information, call the Lewis County Health Department at 606-796-2632.
Lewis County residents may dial 606-202-8600 for more information on COVID-19. The state hotline is 800-722-5725.
**********
Note: The Lewis County Herald has removed the paywall on coverage of COVID-19 related stories, providing critical information to our readers.
To support continued vital reporting such as this, please consider a subscription starting at less than 30 cents-a-week.