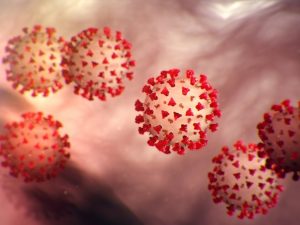 Lewis County Health Director Anita Bertram said Friday she continues to see a spike in positive Lewis County cases and has confirmed the county's third death outside of a long-term care facility.
Bertram's comments came the same day Gov. Andy Beshear announced the state's highest ever number of new daily COVID-19 cases (3,173) and deaths (25).
Lewis County is classified as a red zone for the third week in a row with the recent increase in the number of confirmed cases. The classification has resulted in recommendations to help curb the spread of the virus.
Other red zone counties for next week in our area include Greenup, Carter, Rowan, and Mason.
Bertram said Lewis County is now at 431 total confirmed cases of COVID-19 with 64 of those currently active. Those numbers, she said, continue to rise at an alarming rate.
"This is mean, scary stuff," she said. "I am more concerned for our citizens now than I have ever been."
She said the community spread is her primary concern with recent cases stemming from exposure at church and funeral gatherings.
"The incidence for our school students is minimal," Bertram said. "Our evidence indicates the primary exposure in Lewis County is between adults at gatherings of more than a few people."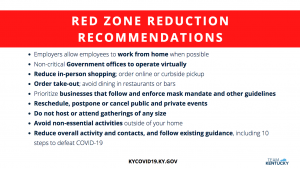 "At this time I do not recommend gathering in groups in light of the increased number of positive cases we are seeing," Bertram said.
"Now is not the time to plan group activities outside of your immediate family. We must practice social distancing and wear masks in public," Bertram stated.
"I strongly recommend that everyone put on a mask if you will be in any type of contact with anyone outside of the people in your household," she said.
She also urges everyone to wash our hands frequently.
She says those who are sick or have symptoms must stay home and avoid contact with others.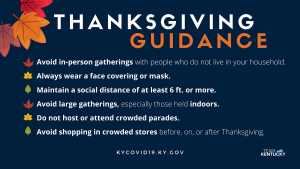 Bertram also asks everyone to follow the state's red zone recommendations and Thanksgiving guidance to help curb the spread of the virus.
"This is a very critical time," she said. "We must be vigilant to protect our loved ones as well as ourselves."
Local coronavirus testing is for anyone age 18 and older and is available by appointment at the Lewis County Health Department three days a week. There is no charge for the test.
Those younger than 18 should consult a physician or call the health department for information about being tested.
COVID-19 testing by appointment is available Monday, Tuesday, and Friday afternoons from 2:30 p.m. until 4:30 p.m.
To make an appointment to be tested, or for more information, call the Lewis County Health Department at 606-796-2632.
Bertram said there are 15 COVID-19 related deaths who were all residents of Vanceburg Rehabilitation and Care. Three additional deaths brings the total for the county to 18.
The latest COVID related death, confirmed Friday, was a 69-year-old male, Bertram said.
The county's first COVID related death outside of a long-term care facility was confirmed on October 24.
Details about the individuals will not be provided because of medical privacy laws.
Lewis County residents may dial 606-202-8600 for more information on COVID-19 or to schedule a test. The state hotline is 800-722-5725.
Note: The Lewis County Herald has removed the paywall on coverage of COVID-19 related stories, providing critical information to our readers.
To support continued vital reporting such as this, please consider a subscription starting at less than 30 cents-a-week.