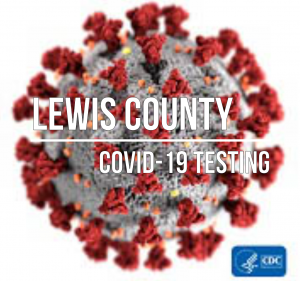 Lewis County has been approved to have a COVID-19 testing site that will be located at Vanceburg.
Judge Executive Todd Ruckel and Health Director Anita Bertram made the announcement today after receiving a confirmation from the state to proceed.
"I want to say I appreciate Mrs. Bertram and her staff at the Lewis County Health Department for taking this on to provide testing for the citizens of our community," Ruckel said.
The testing site will be at the Vanceburg Fire Station/Community Center on Clarksburg Road next to the Head Start facility.
Workers will conduct testing Thursday (May 7, 2020) from 8:00 a.m. until Noon for first-responders, health care workers and those age 60 and over.
Bertram said there are no other criteria for being tested and adds the number of tests will be limited to the swab kits on-hand.
She said workers will be testing up to 150 individuals that day.
Those wishing to be tested must remain in their vehicle at all times and will be passing through the fire station bays where the workers will be conducting the tests.
"We will ask a few questions including name, contact information, date of birth, and whether the person is willing to self-quarantine for 14 days if the test result is positive," Bertram said.
Ruckel said this will be the only site in this area where tests will be performed on individuals without symptoms.
"We need to be able to test people who are asymptomatic to get a true indication of the spread of this coronavirus in our community," Ruckel said.
Bertram says she urges all local first-responders and health care workers who can't be tested at their workplace to take advantage of this opportunity to be tested.
There is no charge for the test and results should be available in less than 48 hours.
"I appreciate everyone who came together to make this happen," Bertram said.
She credits assistance from Gov. Andy Beshear's office and the Kentucky Department for Public Health for approving the site for local testing and for providing the test kits through Gravity Diagnostics.
"I want to also thank Judge Ruckel, Mayor Dane Blankenship, Vanceburg Fire Department and Vanceburg Police Department for working together locally to make this testing possible," she said.
"I want to credit everyone involved for working together toward this common goal," she said.
Bertram added if testing goes smoothly on Thursday it will continue the following week and expand to include individuals 18 and older.
"Our goal is to provide this service to anyone who wants to be tested for COVID-19," she said.
Bertram said nurses from the Lewis County Health Department will be conducting the testing and adds she appreciates the dedication of all those who are risking exposure to the coronavirus to provide the service to the community.
"This is what we signed up for," she said.
For more information concerning local COVID-19 testing, call the Lewis County Health Department at 606-796-2632.
Note: The Lewis County Herald has removed the paywall on coverage of COVID-19 related stories, providing critical information to our readers.
To support continued vital reporting such as this, please consider a subscription starting at less than 30 cents-a-week.