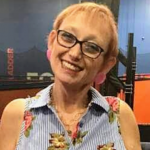 Kimberly Sue Mattingly, 56, of Guston, passed away on Monday, December 28, 2020, at Harrison County Hospital in Corydon, Indiana.
Kim was born April 27, 1964, in Bucyrus, Ohio, the daughter of Hubert Gene and Linda Sue (Moore) Scott. She loved to sing and watch butterflies. She was most happy when she was video chatting with her granddaughters. Kim was a member of Journey Church in Brandenburg.
Kim is survived by her loving husband, Mark Mattingly; her daughter, Sarah Riley; her stepsons, Robert and Paul Mattingly; her grandchildren, Evelyn Mattingly and Madison Hall; two sisters, Marsha (Jack) Scaggs and Lisa Shoemaker and her significant other, Sean Mansfield; and her brother, Kevin Scott.
Services were held at 2:00 p.m. on Saturday, January 2, 2021, at Journey Church with Pastor Terri Karnes officiating. Burial was in Cap Anderson Cemetery.
Expressions of sympathy may take the form of contributions to the Leukemia and Lymphoma Society. Online condolences may be left at www.hagerfuneralhome.com.