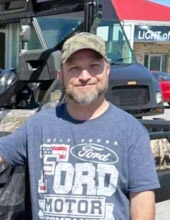 Johnny Dean Cropper, 50, of Vanceburg, passed away Monday, September 27, 2021, at Meadowview Regional Medical Center in Maysville.
He was born October 31, 1970, in Fleming County, a son of Billy Joe and Brenda Carpenter Cropper of Vanceburg.
Johnny worked for Superior Composites. He enjoyed hunting, working on his cabin and other projects, and spending time with his family.
In addition to his parents, he is survived by his best friend, Tracy Carver Cropper; two sons, Tyler and Hunter Cropper, both of Vanceburg; and four brothers, Bobby Cropper of Vanceburg, Jody Cropper of Garrison, Billy Wayne Cropper of Vanceburg, and Paul Cropper of Tollesboro.
Graveside services will be at 11:00 a.m. Friday, October 1, 2021, in Cropper Family Farm Cemetery in Lewis County with Bro. Gary Carpenter officiating.
Family and friends will serve as pallbearers.
Dickerson Funeral Home in Vanceburg is caring for arrangements.