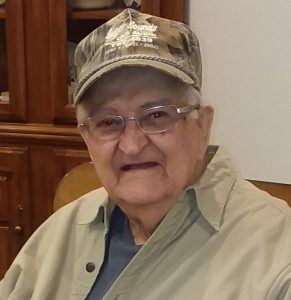 James Ronald McClurg, 82, of Maysville, passed away Tuesday, August 31, 2021, at Meadowview Regional Medical Center in Maysville.
James was born in Lewis County November 17, 1938, a son of the late Marion and Weaver Bloomfield McClurg.
James worked for January and Wood Company in Maysville as a machine operator for 24 years. He enjoyed hunting, fishing, and antique cars.
Left to cherish his memories are three daughters, Mary Griffitt of Tollesboro, Noveline Mefford of Garrison, and Kathy Miller of Vanceburg; one son, James McClurg of Eastern Shore, Virginia; two sisters, Phobie (Mike) Scaff of South Shore and Helen Livesay of Wheelersburg, Ohio; two brothers, David McClurg of Vanceburg, and Junior McClurg of Holly Branch. Several grandchildren and great-grandchildren also survive who will mourn his passing.
He was married for 15 years to Nancy Pressley McClurg, who preceded him in death. She was a daughter of the late Ralph and Bernice Pressley.
Services will be at 1:00 p.m. Friday, September 3, 2021, at Gaydos Funeral Home, 159 Second Street in Vanceburg, with Bro. Arthur Moore officiating.  Burial will follow in Bethel Cemetery at Ribolt.
Visitation will be Friday, September 3, 2021, from 11:00 a.m. until the hour of services at Gaydos Funeral Home.
Friends and family will serve as pallbearers.
Condolences may be sent to the family at www.gaydosfh.com.