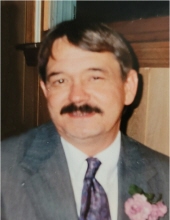 Jack Dean Lykins, 72, of Vanceburg, passed away Saturday, July 3, 2021, at his home.
He was born January 2, 1949, in Lewis County, a son of the late Louie and Rosetta Cassidy Lykins.
Jack proudly served his country in the United States Army and gave his life to the Lord on June 16, 2021, at Garrison First Christian Church. He was a retired boilermaker for Local #105 in Piketon, Ohio, and enjoyed traveling, sports and spending time with his family, especially with his grandchildren.
Jack is survived by his wife of 30 years, Anna Armstrong Lykins; two sons, Jack Dean Lykins Jr. (Bridget) of Quincy, and Jason Dee Lykins (Tracie) of Russell; seven grandchildren, Blayne, Andrew, Mason, Katie, Titus, Reagan and Hannah; two brothers, Louie Lykins (Teresa) of Florida, and Jeff Lykins (Angie) of Vanceburg; and one sister, Judy Menix (Jack) of Grayson. He also leaves many other family members and friends who will sadly miss him.
In addition to his parents, he was preceded in death by three brothers, James Lykins, John Lykins and Jessie Lykins.
Services will be at 1:00 p.m. Friday, July 9, 2021, at Dickerson Funeral Home in Vanceburg with his sons, Jack Lykins Jr. and Jason Lykins, officiating. Entombment will follow in Lewis County Memory Gardens at Black Oak with full military honors accorded by the Monte Lewis Stamm VFW Post 5438.
Friends may visit from 11:00 a.m. until 1:00 p.m. Friday, July 9, 2021, at Dickerson Funeral Home, 110 West Second Street in Vanceburg. Masonic rites will be conducted at 12:30 p.m. by the Stone City Masonic Lodge.
Pallbearers will be Blayne Lykins, Andrew Lykins, Mason Lykins, Titus Lykins, Jeff Lykins and Chuck Armstrong.