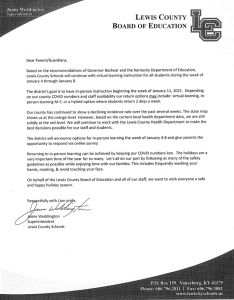 Lewis County school students are tentatively scheduled return to the classroom January 11. There are a number of options that will be considered.
Virtual learning is planned for the first week of January
Superintendent Jamie Weddington sent a note to district employees and a letter to parents and guardians Tuesday afternoon outlining plans and urging families to follow safety guidelines:
***
Good afternoon LC staff,
Please see the attached announcement related to staying on virtual learning for at least the first week of January.
I hope everyone is able to enjoy some much needed time off over the coming days. Please be mindful of your surroundings so that you may stay healthy over our holiday break.
Happy holidays and Merry Christmas to all of you and your families.
Respectfully with Lion pride,
Jamie Weddington
***
Dear Parent/Guardians,
Based on the recommendations of Governor Beshear and the Kentucky Department of Education, Lewis County Schools will continue with virtual learning instruction for all students during the week of January 4 through January 8.
The district's goal is to have in-person instruction beginning the week of January 11, 2021. Depending on our county COVID numbers and staff availability our return options may include: virtual learning, in­ person learning M-F, or a.hybrid option where students return 2 days a week.
Our county has continued to show a declining incidence rate over the past several weeks. The state map shows us at the orange level. However, based on the current local health department data, we are still solidly at the red level. We will continue to work with the Lewis County Health Department to make the best decisions possible for our staff and students.
The district will announce options for in-person learning the week of January 4-8 and give parents the opportunity to respond via online survey.
Returning to in-person learning can be achieved by keeping our COVID numbers low. The holidays are a very important time of the year for so many. Let's all do our part by following as many of the safety guidelines as possible while enjoying time with our families. This includes frequently washing your hands, masking, & avoid touching your face.
On behalf of the Lewis County Board of Education and all of our staff, we want to wish everyone a safe and happy holiday season.
Respectfully with Lion pride,
Jamie Weddington
Superintendent
Lewis County Schools
Click Here for a PDF of the letter.
Note: The Lewis County Herald has removed the paywall on coverage of COVID-19 related stories, providing critical information to our readers.
To support continued vital reporting such as this, please consider a subscription starting at less than 30 cents-a-week.